Welcome to English Tutor . Hong Kong
Kindergarten | Primary | Secondary | Adult
My name is Andrew Orme and as an experienced native English tutor from the UK, I provide English lessons to individuals and small groups. I have over 20 years experience teaching English as a second language in Hong Kong to students of all ages.
I provide students with both fixed weekly lessons and ad hoc lessons. So you can have a lesson every week or just once a month. Lessons times vary, with both 60 minute and 40 minute time slots. Some students also book lessons for 1.5 hours.
I also conduct online lessons using Zoom, Skype, Google Meet, Google Docs, WeChat and WhatsApp.
I try to make learning English both educational and fun, and I am pleased to say, that many of my secondary students have been studying with me since kindergarten !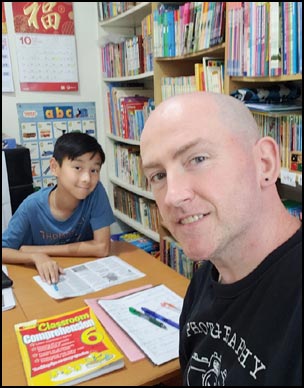 I can identify each students weak points and provide the most appropriate course material to help them improve their reading, writing, listening and speaking skills.
I also offer interview practice for Primary 6 students preparing to attend interviews at their choosen secondary schools.
The first lesson is FREE, so contact me now and we can arrange a trial lesson.
If you have any friends or family members who are looking for an English tutor, please feel free to send them my name card.
For all things English ...
As well as these tutoring services, my sister Debbie, also provides professional writing and tutoring services from the UK.
With more than ten years' experience as a tutor and more than thirty years' experience as a journalist/writer, Debbie Orme is well-versed in the use of the English language and enjoys teaching it to others.
From the youngest of children to the most highly-qualified professional, she can help everyone with their English language requirements.
Learning Centres in Hong Kong
English learning centers in Hong Kong - over 70+ listed
French learning centres in Hong Kong
Popular Links
English language newspapers from around the world
Kindergartens and Nursery schools in Hong Kong
Primary schools in Hong Kong East
Reading schemes ( more links ... )
English Articles
Are Distance Learning Courses Better Than Regular Courses?
Break Out Of The Teaching Rut And Teach English In Hong Kong
Business Writing: Common Grammar Mistakes
Teaching English To Non-English Speakers ( more articles ... )
Word Power
Feel free to also check out my Word Power web site - which is a free educational resource with an extensive grammar section.